OVC, Social & Economic Support and Protection
The reporting year saw a number of services layered to 49,317 People (Male 23,446 & Female 25,871) from 7,138 households.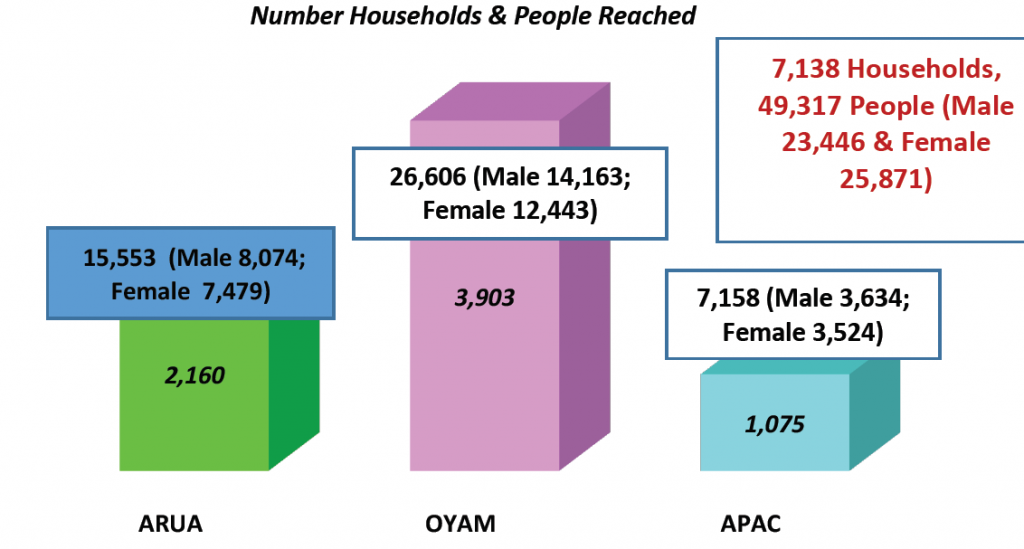 11% (5,356) One Service, 12% (5,968) two Services and 77% (37,993) with three or more Services while 7,893 (Male 2,286, Female 5,607) people were involved in VSLA and income generating activities. Integrating income generating activities such as VSLA was fundamental in fostering livelihood recovery in many households; Grace a member of Bed Igen VSLA group in Aboke sub- county Oyam District testified how VSLA has enabled her to appropriately utilise finances and resources meet her household essentials such as food, medication, clothing and school fees for the children. She indicated how she had struggled managing resources prior withought financial literacy.
Communities also registered being empowered to ably voice out their views, this was enhanced by dialogue and community sensitisation platforms. The group meetings like VSLA gave women an opportunity to learn how to stand and not easily be solved by men while the few men also got to appreciate to listen to women in equality. As a result of empowering community on financial literacy;
250 VSLA groups were registered at the sub county A total of 5 saving groups were linked to various existing government programs such as the Community Demand Driven Program (CDD) for sustainability. This included Aliodrozu and Asienzu Savings groups in Rhino Camp Sub County which received UGX. 10.6 Million for piggery and goat rearing respectively. On the other hand, Mungufeni Ciaba and Mungufeni Ozo in Logiri Sub County received 3.5 million for goat rearing and plastic chair projects respectively. Finally, Asionzisimaku VSLA group in River Oli Division received UGX.10 Million towards provision of tricycle (rexer) transport services in Arua Municipality.
Through Differentiated District Equalization Grant (DDEG) – a government program, farmers in Arua were supported with an irrigation scheme to help with their farming IGA